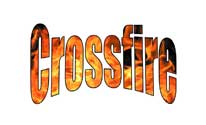 Crossfire is an interactive, creative and fun program for school aged children.
Children are an important part of our family at Riverside. They are loved and valued.
Our purpose is to teach them how they can encounter God for themselves and have a personal friendship with Jesus. It's also a great opportunity
for your kids to have loads of fun, and build strong Christian friendships.
Amanda heads up a great team of parents and leaders for Crossfire.
---